Regular price
Sale price
$49.00
Unit price
per
Sale
Sold out
Now Shipping to Michigan, Illinois, Indiana, Ohio and Wisconsin! Get Pasture Raised Rebel eggs delivered straight to your home! Shipping included in price👍 
Our Rebel eggs come from our hens that are raised on pasture and supplemented with NON-GMO grains. Our hens live lives where they are free to roam, hunt for bugs, dust bathe and nap in the sunshine. And the taste reflects their happiness. The yolks are a buttery, vibrant, yellow-orange. They are nutrient dense and packed with flavor!
Are these eggs washed or unwashed?
These eggs have the natural fresh bloom intact! This means the eggs are clean, but unwashed. The bloom protects the egg and allows it to remain at room temperature.
How should I store fresh eggs?
Many European countries store their fresh bloom eggs at room temperature until use. You can also store in the refrigerator to extend their freshness.
Do I need to wash the eggs?
Washing is optional. If you do wash them, we suggest to wash them as you eat them. This allows the bloom to remain intact and keeps the egg fresh until use.
What if an egg arrives cracked?
Don't worry! We've got you covered! We will refund the price of the egg.
Share
View full details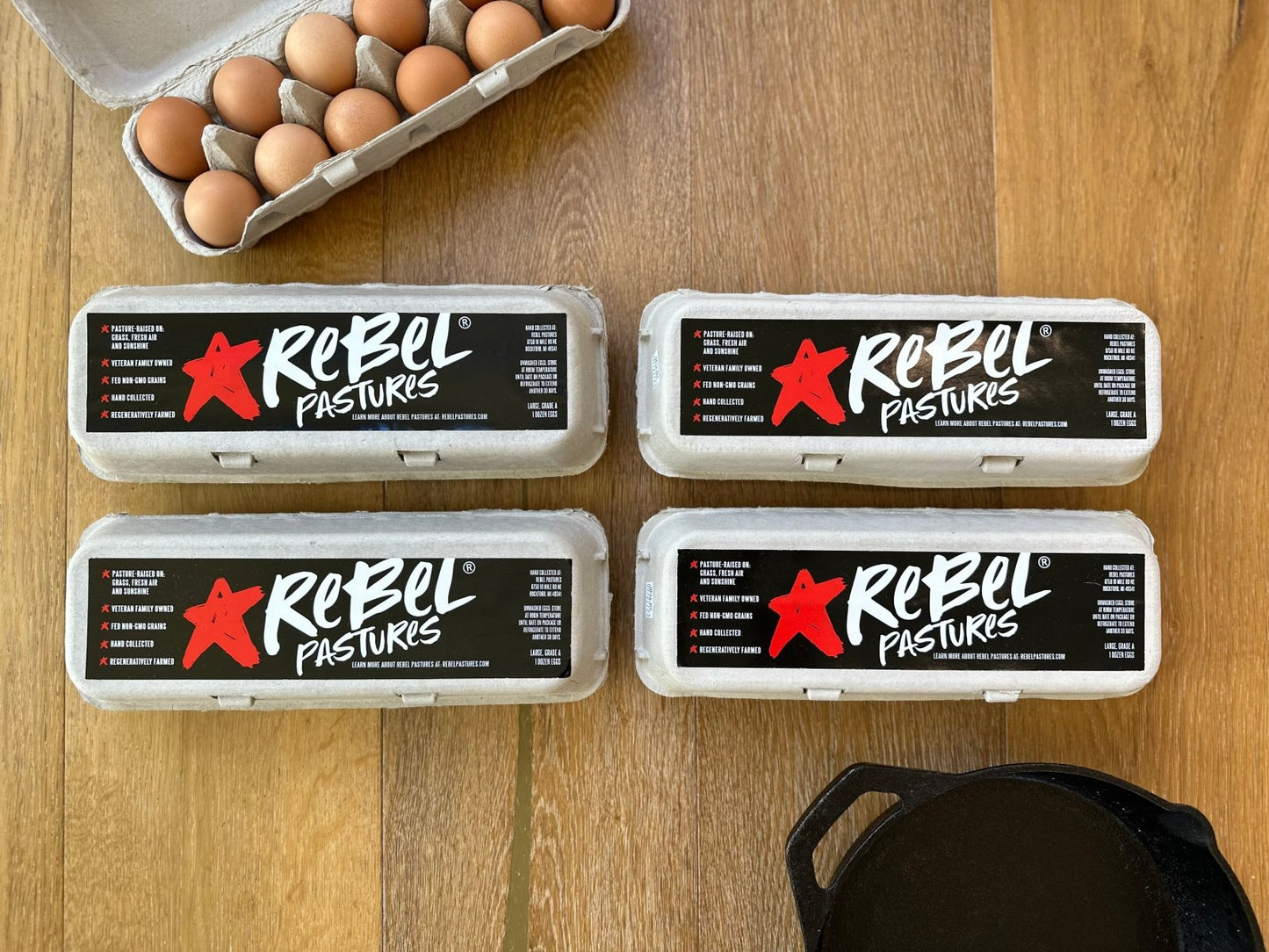 4 dozen eggs arrived well-packaged and intact! No broken eggs! Thanks, Rebel!
Bow season is just around the corner here in Michigan!
A weeks supply of eggs for our cherished week in the woods has finally been met with resolve! With no need for refrigeration ,these clean unwashed fresh eggs stored in the box as shipped will eliminate the usual broken egg mess in my cooler.
I'd never have thought of this fix until I received my first UPS delivery of 4 doz. Thanks for the foresight!